Alex Ariza to help Bam Bam Rios to KO Pacquiao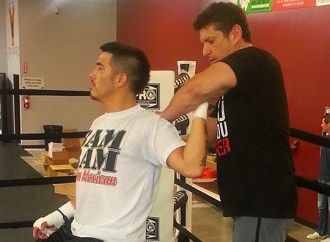 This is Alex Ariza helping Bam Bam Rios
And this is Pacquiao getting help from Alex Ariza
The Photos above shows Strength and Conditioning trainer Alex Ariza, but wait a minute, he can't be training both fighters especially if they are facing each other.
Everyone knows that Manny Pacquiao will be facing the young Brandon Rios in China this coming November but not all are aware that his strength and conditioning coach has changed side already, that is an epic move. Followers of Pacquiao may have predicted the departure of Ariza, but for him to work against his former boss is such a risky and gutsy move, talk about loyalty and ethics.
Alex Ariza had been training Manny Pacquiao for a long time and no doubt that he has some inside information about Pacquiao, noticeably Alex Ariza had been complaining about about his role with Manny and how his training regime was not followed during the past couple of fights, so this could be payback time for Alex Ariza.
If you are a fighter that is set to fight Pacquiao, its a good idea to get Ariza and that is exactly what the Rios Camp did, I can't blame them for taking advantage of the opportunity and using Ariza to play against Pacquiao's camp, mind games! As of this moment, Bam Bam is already training with Ariza at Roberto Garcia's Boxing Academy in Oxnard, California.
What do you think of this move by Alex Ariza?
Is it a Judas move or is it purely a business decision?