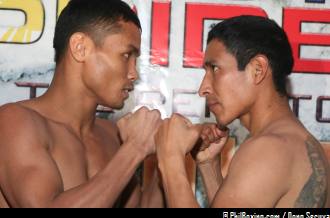 Cebu City -- Rey 'Boom Boom' Bautista (L) of the Philippines and Alejandro 'Zorrito' Barrera of Mexico who fight for their grudge rematch tomorrow night at the Waterfront Hotel & Casino here both made weight during today's official weighin held at the Entertainment Plaza at the SM City Cebu. Bautista came in at 124 lbs while Barrera stepped in at 125.5 lbs.


The rest of the weights are as follows:

Jason Pagara (Philippines) - 140 lbs vs Billy Sumba (Indonesia) - 140 lbs.
10 rounds Super Lightweight bout

Edrin Dapudong (Philippines) - 113 lbs vs Sofyan Effendi (Indonesia) - 108 lbs.
10 rounds Mini-Flyweight bout
Dapudong will have one hour to reduce to make the proper weight.

Roli Gasca - 118 lbs vs Joash Apericio - 121 3/4 lbs
8 rounds Bantamweight bout
Apericio needs to reduce to make weight.

Jojo Intor - 122 lbs vs Albert Villacampa - 121.5 lbs
4 rounds Super Bantamweight bout

Rey Melligen - 136 lbs vs Robert Arcala - 135 lbs
4 round Lightweight bout

Albert Pagara - 114.75 lbs vs Jeffrey Galsim - 116.25 lbs
4 round Super Flyweight bout

Zaldy Aroa - 116 lbs vs Robert Awitin - 116 lbs
6 round Super Flyweight bout

The weighin was supervised by GAB Cebu representative Rolando Mendoza. The gates will open at 5 p.m. tomorrow, Saturday, at the Waterfront Hotel & Casino in Lahug. The first fight starts at 6 p.m.