source:
PhilBoxing.com | by Manny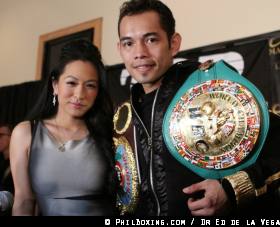 At the Foot of Mt. Apo, Kidapawan City, The Philippines 2:30 p.m. March 4 - A few hours after she blasted me in her Facebook account telling me to "Go, get a life!" for advising her husband to find the way back to his parents' doors and ask for forgiveness, Rachel Marcial, the controversial wife of world bantamweight champion Nonito Donaire, Jr. tugged with her husband to a "peace talk" with Nonito Sr., his wife Imelda and members of the Donaire Family.

Thus ended the three-year public feud between Nonito Sr. and his family, on one hand, and Nonito Jr. and his wife, on the other, a strife that hounded and wounded the members of this boxing family.

"At least, karon makaginhawa na ko ug luag," said Nonito Sr. after the long-awaited reunion that lasted from 5 p.m. to 10 p.m. California time. (Now, I can breathe freely!)

The father said the only thing he asked from his son, the boxing champion, and his wife, was to belie the accusation made against him that he stole $80,000 from the couple's bank account.

Nonito Jr., who according the father talked to them sincerely, said that he was just misquoted and that he never said that his father stole money from him. He apologized nonetheless.


Rachel (L) and Nonito last month in Las Vegas.

"That was all that I asked from them. Correct the story that I stole money from them. And they corrected it and apologized. That was all that I wanted. Now, I can walk and face people again with my head up high," said Nonito Sr.

I knew of the meeting well ahead but I heeded the request of the older Donaire not to write about it. In fact, even after the meeting, Dodong Donaire was still reluctant to talk about it saying that he wants the issue to die down quietly.

However, I convinced him that it was best that the story is written and reported so that those following this controversy would know that the feud is over and there is peace in the family.

Nonito Jr. and Rachel, accompanied by two others, arrived at the Donaire home in San Leandro at about 5 p.m. and after short pleasantries proceeded to a room in the Courtyard Inn in Castro Valley City near San Leandro for a three-hour heart-to-heart talk.

Nonito Sr. was with his wife, Imelda, son Lucky (Glenn and Rochelle were at work) and five more relatives.

When everything was settled, the family proceeded to the Genghis Khan Restaurant to share a dinner they have not had together for the last three years and parted ways at about 10 p.m. California time.

There was not much information I could get from Nonito Sr. but from his voice alone, I could sense the happiness he felt that the thorn that has pierced his heart for three long years has at long last been pulled out.

"We hugged as father and son and he asked for my forgiveness," Nonito Sr. said.

"I also asked for his and Rachel's forgiveness if I had done or said anything that may have hurt them," he added.

Did the father ask that he be given back his job in the Donaire boxing team?

"No, I never asked for that. I never asked for anything other than a statement clearing my name," Nonito Sr. said.

"I am praying that he will understand humility and I am praying that he will have more success in boxing," he said.
Click here for more sports and Entertainment updates»

Download my toolbar!
Bookmark my site and write your comments below!
Tags: make money online philippines, Pinay Sex Video, Pinay sexy, pinay scandals,sports live stream,
boxing, livestream, UFC livestreams, free live streams, Manila scandals, Pinay celebrity nude, sex
chat, Philippine Azkals, Smart Gilas, Pinoy Porn, teen sex,pinay teen sex, Make Money with blog,UFC,
PBA, Sports Blog, Philippines Sports Blog,
Megan Fox new movie, Selena Gomez nude, John Stamos, Olivia Wilde nude ,Bedbugs,Kathy Hilton nude,
Blade Runner sequence reveal,New Bible is here,Gas prices increased, Health care obama, Paquito Diaz,
is dead, Hachiko, Solenn Heussaff nude, Libya Map war,Julia Clarete nude, iPad 2 review, Thia Megia,
nude, Chico Molina, How To Lose Weight Manila, Roxanne Cabanero nude pics, Jp tokoto, mokie norful,
myxer, diego sanchez, water for elephants trailer, danica mendivil, paula abdul 911 call, jimmy fallon
charlie sheen, titmouse, heart attack grill, td ameritrade, martin kampmann, ufc on versus 3, j lo on
the floor,judy greer ,sanchez vs kampmann, justin bieber flipping off paparazzi, latoya jackson,
bailee madison,jerry seinfeld, Mark Munoz fight,