Pacquiao KO worth more than all the money in the world - Marquez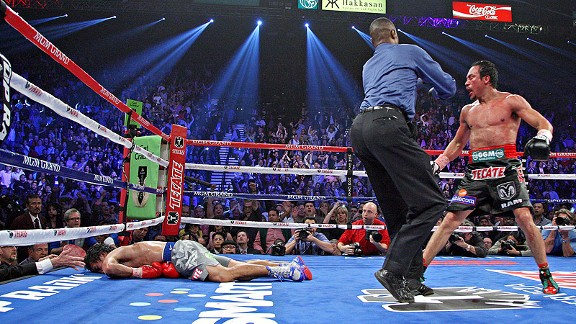 "Speaking sincerely, I don't think about that anymore," Marquez said of the notion of yet another Pacquiao fight. "Anything that was pending was settled, in every way. If he would have knocked me out the way I did to him, how am I going to ask for another fight?
"Keeping that feeling would be grandiose, and to have my Mexican supporters and the whole world enjoy that feeling and say, 'Remember the best pound-for-pound fighter that was knocked out by Juan Manuel Marquez?' -- to me, that is worth more than all the money in the world." - Juan Manuel Marquez
In a recent interview with Juan Manuel Marquez by ESPN, he was asked if he was willing to fight Pacquiao again and Juan Manuel Marquez was pretty blunt on his answer, Top Rank and Zanfer Promotions have been open about their plans for a fight next year that would match the winner of Bradley-Marquez with the winner of the Pacquiao-Brandon Rios bout on Nov. 23 but Marquez don't want nothing of it.
"We know that the offer will be tempting, but it isn't worth more than the feeling, what was lived, what was acquired after that knockout," Marquez said. "That's worth more than several million dollars. I would rather retire with this feeling than take a risk in whatever happens with Pacquiao [such as another controversial decision]."
I guess Manny Pacquiao and Filipinos, as heartbreaking as it is would have to settle with the lost, every time we see that Picture above its just heartbreaking, I don't know how many more time I should say heartbreaking because it is really. Juan Manuel Marquez on the other hand is just being wise, he knew that Pacquiao still got the capability to beat him and wont risk that feeling. The Mexican will forever be remember as the person who defeated the Pound for Pound champion Manny Pacquiao.
Every superman got a kryptonite.