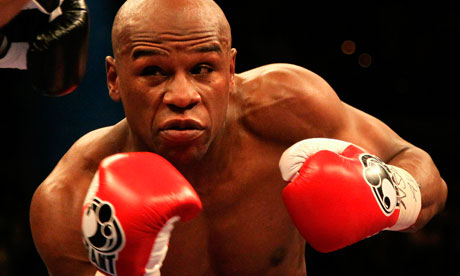 source:
http://www.guardian.co.uk
The American boxer has been doing his best to lower the sport further into the gutter with a tasteless tirade against Manny Pacquiao
While rape charities and the UK press have been busy condemning David Haye after he claimed his fight against Audley Harrison would be "as one-sided as a gang rape", the US fighter Floyd Mayweather Jr has been doing his best to lower boxing further into the gutter. Not only is he being investigated by police over allegations of assaulting his former partner and swiping a mobile phone, but the row over his racist tirade towards the boxer widely considered the best in the world, Filipino Manny Pacquiao, refuses to die down.
There is little love lost between the two fighters, as they've so far failed to agree on a date to fight. That they might meet was clearly in Mayweather's mind, however, in a recent online video.
"I'm on vacation for about a year," Mayweather said. "As soon as we come off vacation, we're going to cook that little yellow chump. We ain't worried about that. So they ain't gotta worry about me fighting the midget. Once I kick the midget ass, I don't want you all to jump on my dick. So you all better get on the bandwagon now... Once I stomp the midget, I'll make that motherfucker make me a sushi roll and cook me some rice." He then referenced previous claims of drug use saying: "Don't worry, we'll kick 'Poochiao' ass. He's gonna take the urine and blood test," and concluded: "This motherfucker's name is Emmanuel. He got a fake name, taking power pellets."
The inevitable furore followed as did an apology, of sorts. "There's nothing but love in my heart... The only thing I want to say is, if anybody who was affected by what I said the other day, I apologise as a man. I apologise." However, The National Federation of Filipino American Associations joined the fray, denouncing the "racist and homophobic rant" which "crossed the line of decency and respectability" and dismissed Mayweather's apology.
Meanwhile, Pacquiao tried to play it all down. Writing his column for the Filipino boxing site, Philboxing.com, he wryly noted that he was pleased at the publicity Mayweather was creating for his upcoming fight with Antonio Margarito. Then, addressing the issue with a level-headedness entirely at odds with Mayweather's rant, he refused to respond to racial slurs with "violent and disrespectful statements" and offered "forgiveness and repentance".
Comentators everywhere had already condemned Mayweather but, aptly, it fell to ESPN's Jeff MacGregor to sum it all up with the phrase: "He's a bum."
It seems the only person left in Floyd's corner is rapper 50 Cent, who took to Twitter to defend the boxer from the assault allegations. "Another case of angry baby mama wanting money... She's claiming he hit her but has no bruises," tweeted "Fiddy". Fiddy's version of what happened to provoke the argument: Floyd "just asked her why the house was so dirty".
Mayweather is due to appear in Las Vegas Justice Court on 9 November.
Continue...
Support the site, try our toolbar