Pinoy Pride 17 AJ Banal lost Video Summary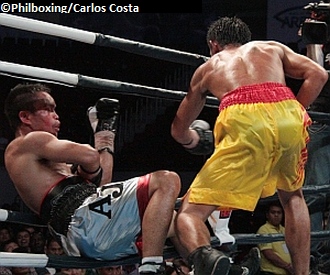 AJ "Bazooka" Banal suffered a ninth round technical knockout at the hands of veteran Thai fighter Pungluang Sor Singyu in the main event of Pinoy Pride XVII. This was the biggest fight of the night and unfortunately its the one that the Filipino lost. The score was 4 - 1 with Boom Boom Bautista, Jason Paraga, Michael Domingo winning their own respective fights.
Being at the venue and watching how the Thai won against AJ Banal did not feel good but the Thai boxer did gave a better performance against AJ Banal who was back pedaling most of the rounds against the more aggressor opponent in Pungluan Sor Singyu. Sor Singyu deserve the championship belt while AJ Banal should continue to focus to bounce back from this lost.