What Yao Ming thinks if Rocket retired his Jersey!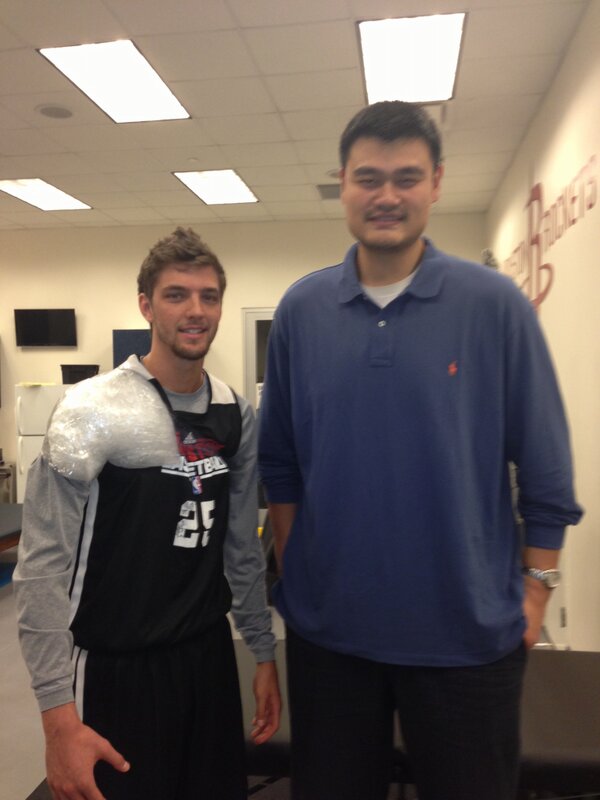 look at the big hand of Chandler Parson
Yao Ming
recently visited his old US team the Houston Rockets before the game against the Golden State Warriors, and it looked like it inspired his fellow
Asian Jeremy Lin t
o perform, crushing Golden States to a 140 - 109 victory, lead by Jeremy Lin's 28 points.
Let's talk about Yao, the 8 year Rockets player is studying economics and running a wine business in China. He was asked recently about how he feels if the Rockets retire his jersey.
According to Howard Chen, CSN Houston
:
Yao was selected as an All-Star all eight years of his career, a career that was shortened by a foot injury. The Rockets have said they're planning on retiring his jersey – something Yao says he hasn't thought much about yet.
"I don't know how many times I played on this court, but every time I look up to the jerseys in the sky: Rudy (Tomjanovich), (Calvin) Murphy, Hakeem (Olajuwon), Moses (Malone). Those names are like a mark…I'm way behind them. It should be a great honor."
Currently, Yao is running a wine business and is also back in school – studying economics and media.
"I know a lot of the players here finish school first and then come to play professional basketball," Yao said. "I'm the reverse. I have to go back to school after playing my career. Anyway, that's the way to keep me busy and keep me learning."