2014 Sports Illustrated Top 10 NBA players, who made it?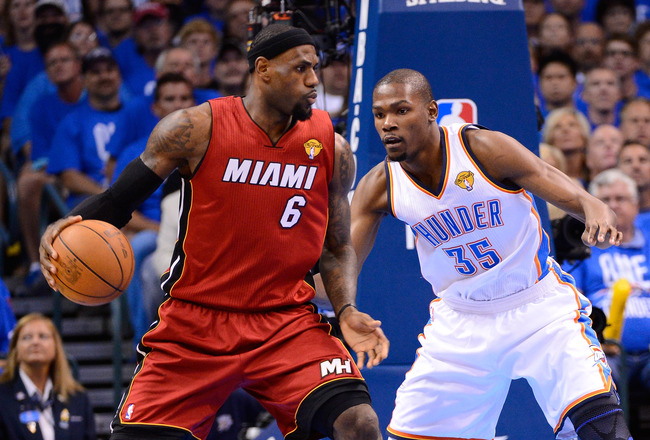 The most awaited and much anticipated 2014 Sports Illustrated Top 10 NBA players for 2014 season. So who made the list? Yes the guys on the photo above obviously made it, don't act as if you are surprised because it is definitely expected that Lebron James and Kevin Durant will be on top of the list, but who is number one?
Before we jump it to the number one spot let's first have a quick rundown of the other players that made it starting from number 10.
10. Carmelo Anthony - Sure, this guy is top 10 material, after all he is the franchise player of the Knicks and one of the best scoring players today, he could have made it higher on the list if he can do other things like play defense or win a championship, even just an eastern championship, but that is never going to happen because Lebron James and the Heat is in the same division.
9. Kobe Bryant - Who ever made this list obviously likes Kobe, with his team under performing last year and with his injury, I would have doubts putting Kobe in the 9th place, not because he is not a good player, in fact, he is one of the best players of the game, but the keyword here is 2014 and with an injury like that I don't think he can comeback with the same venom. Can the Black Mamba still sting this season?
8. Dwayne Wade - With accomplishments such as back to back NBA championships, who would hesitate to put Dwayne Wade as number 8 on the list? I probably would. While Dwayne Wade is good, and there is no question to his contributions to his team, I don't think he is one of the top 10 players for 2014, his injury totally changed his game.
> Kevin Durant thinks Harden should replace Wade, Wade responded that he will make KD respect him and KD acknowledges on twitter with the phrase, show me don't tweet me
7. Dwight Howard - One of the two Centers that made it on the list, I guess if we need to have a center in the top 10, there is really no one else to put in, I just cant think of anyone else aside from the player that will be mentioned next.
6. Tim Duncan - The big fundamental, respect the veteran, one of the players who was able to sustain and still be a big factor in the game, future hall of famer.
5. Russell Westbrook - Perhaps one of the most athletic and gifted players of today, he plays with his heart, he plays hard, he plays all out, he plays with intensity... and that is why he got injured... hopefully he can comeback stronger, I have a feeling someday he would be the face of a team (maybe not in OKC), the franchise player, the go to guy.
4. Tony Parker - Whoever put this guy on number four knows what he is talking about, if you don't agree, just watch last season's finals games. Tony Parker knows how to play the game and definitely knows how to take charge. The best international player in the NBA.
3. Chris Paul - Totally changed the Clippers game, not only does he know how to score, he also knows how to make his teammates better. Not exactly a high flyer but he gets things done.
Okay So we are down with two players.. KD or LBJ?
2. Kevin Durant - If only he won the championship last year, I would have put him on the top spot but he did not and that is why he is number two. He is almost as good as Lebron James minus the big muscles, the MVP's and the Championship trophies. Don't get tired of getting number two.
1. Lebron James - This is why he is called the king, the best all around player today, he can defend, he can shoot, he can pass, he can dunk, he can win championships and he is the Sports Illustrated number one player of 2014. Long live the King!
So what do you think of the Top 10 Sports Illustrated list of the best players for 2014?